PAMELA MCCOURT FRANCESCONE
A passion for beauty, for quality and for precious yarns. A punctiliousness which translates into the highest levels of Italian design and production, based on the traditions of quality knitwear and of long years of experience, handed down from generation to generation. This is the precious heritage of Paola Losani, a young businesswoman who runs a knitwear factory in the delightfully-named Villa Case Sparse (Villa of the Scattered Houses), a hamlet close to the little town of Magione on Lake Trasimeno in Umbria, an area with a strong industrial vocation, and the most important in Italy for the production of knitwear.
From this smiling and happy Green Heart of Italy the production of Lamberto Losani passes through their showroom in Milan?s fashion hub, Via della Spiga, and into the most prestigious luxury boutiques and stores in Europe, the United States and Asia.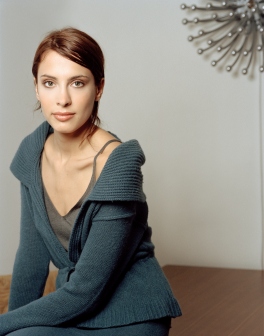 The story of the Losani family began in 1940 when, in Perugia, Paola?s grandfather Giovanni Losani began to produce socks and knitwear in wool and angora, two yarns which were produced locally. ?Then it was my father, Lamberto, who launched the first fashion line with our own label, giving the company a new lease of life,? says Paola a smiling thirty-year-old who underlines that ?everything, quite simply, starts with a thread.?
No longer those simple woollen threads which Nonno Giovanni used to work with, but precious yarns like the softest Mongolian cashmere, wonderful silks, and Egyptian and Peruvian cottons which are often blended with less traditional and noble yarns like viscose and elastem because, as Paola explains, ?the Losani philosophy is that there is no luxury without comfort, and no comfort without quality.? And so we find elasticised linen, cashmere which becomes even more impalpable thanks to the addition of the finest cotton, and viscose which is so soft that it gently moulds and swathes the body. ?Because the first things that count are a beautiful form and a garment which is easy and comfortable to wear. Which means feeling totally at ease wearing a jumper, a dress, a pair of trousers or a skirt which also enhance one?s personality.?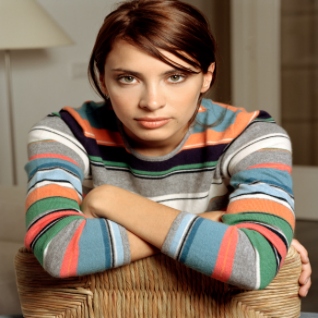 Behind the two collections Paola Losani produces each year there are long months of research and studies on new designs and blends of materials, new styles and trends, but the bottom line is always comfort, which means clothes that give total freedom of movement. The collections are the result of the teamwork of a group of researchers who work with Paola and stylists in countries around the world where the name Losani is synonymous with luxury knitwear. ?Today it is very difficult to propose styles, as tastes and trends are constantly changing everywhere. But a thing of beauty is a thing of beauty the world over. And so, by varying details like colours, necklines, lengths and, of course, the choice and blend of yarns ? because we also have to take into account the different climates in the different parts of the world ? we have carved out a niche and have a demanding clientele who wants only the highest quality materials, although obviously the styles are also of paramount importance. What people want today are new ideas, and this is probably the element which requires the most commitment on our side, because it is vital to be up-to-the-minute. And this can depend on minor details like a collar, a split in a skirt, or a new stitch. But without ever forgetting comfort and elegance. It?s really a question of finding the perfect balance.?
Italian designer knitwear is an artisan heritage which has become a veritable art. An art to be defended and one which, thanks to companies like Lamberto Losani, makes Italy the country to which the rest of the world turns for inspiration. Although nobody is foolish enough to harbour any doubts that it is impossible to aspire to the levels of beauty that Italy, and only Italy, knows how to create.
LAMBERTO LOSANI S.r:l.
Villa Case Sparse, 48/G
06063 MAGIONE ( PG )
Tel. +39 075 8477101
Fax +39 075 8477126