PAMELA MCCOURT FRANCESCONE
From 28th May to 2nd June Rome?s Auditorium Parco della Musica will host the Thai Festival devoted to Thai culture, art, music, dance, cinema, gastronomy, the ancient art of massage and Thai boxing, an event which will showcase the Asian country in the Eternal City.
Under the patronage of the Thai Embassy in Italy, the Thai Ministry for Commerce, the national carrier Thai International, the tourist board TAT, the Italian Ministry for Culture and the Foreign Ministry, the Latium Region and the Cassa di Risparmio di Roma Foundation, this will be the frist time that Thailand ?invades? Rome. The proceeds from the inaugural evening, Saturday 28th May, will go to help the reconstruction of the areas of Thailand which were hit by the tsunami at the end of last year.
His Exellency Vara-Poj Snidvongs
Ambassador of Thailand in Italy
There will be concerts of classical music but also traditional Thai music and dance, exhibitions of contemporary art and an exhibition of the jewels of Thai Queen Sirikit, films and demonstrations of martial arts like Thai boxing. And then there is Thai cuisine which will feature in the Food Hall with chefs flown in from the various Thai regions to prepare the best of the country?s elaborate and flavoursome traditional and contemporary gastronomic specialities.
?We truly appreciated the proposal to set up this festival which came from Goffredo Bettini, president of the Auditorium, a wonderful and atmospheric setting in which to showcase the best that Thailand has to offer,? said Vara-Poj Snidvongs, Thailand?s ambassador to Italy. ?This gesture is one of the many signs of solidarity we received from Italians following the tragedy which hit our country. Some were really touching, like the flowers left here at the embassy by neighbours and the letters and donations we received from Roman school children. We were sincerely touched by the way the Italian people were close to us at that time, also helping in the reconstruction of our country. And I would like to emphasise that our King, our government and the Thai people are proud that, in spite of the offers of donations which poured in from the four corners of the world, our government and many Thai institutions are covering the costs for the reconstruction of the damages areas, many of which have already been almost entirely rebuilt.?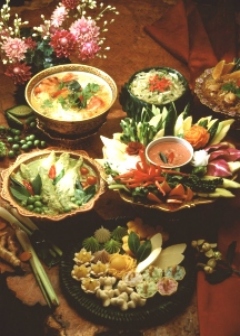 Now the Thai Festival gives Romans and visitors to the city a chance to come even closer to this Asian country, and without making a long journey, but merely by crossing the city to the Auditorium. ?We expect anything up to 200,000 visitors during the five days of the event, a unique opportunity to discover our age-old culture.?
For information: