Testo e Foto di Pamela McCourt Francescone
The little island of Naalaafushi in the Maldives has been totally rebuilt by Banyan Tree Resorts and the UNDP after the tsunami that destroyed so many tropical paradises in South-east Asia.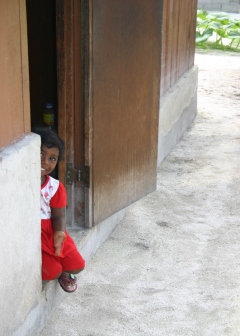 That morning was like any other on the little island, the fishermen working on their boats and mending their nets, the islanders employed in the little fish-processing factory hard at work, and the children behind their desks in the local school. Then three huge waves, up to 2.5 metres high, washed over Naalaafushi, damaging 68 of the island?s 77 houses, killing one inhabitant and leaving the islanders without light, water and everything they needed to live and survive. In just a few short minutes years of hard work had been swept away into the ocean, as houses and buildings were left in ruins, the livelihood of the islanders dashed like their hopes. The Maldivian government immediately came to their help, as it did with all the stricken islands, supplying provisions and water but it was thanks to a project undertaken by Banyan Tree Resorts which volunteered its services, time, manpower and funding, and the United Nations Development Project that Naalaafushi was completely rebuilt, the first Maldivian island to be returned to its former pre-tsunami state.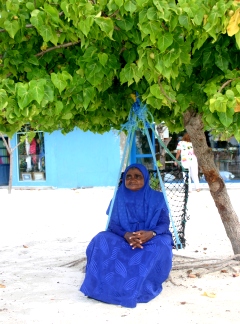 ?On the 11th of January, barely two weeks after the tsunami, a large dhoni, the typical Maldivian boat, drew up at the jetty of Naalaafushi loaded with building materials. The United Nations volunteers and 15 staff members from our Banyan Tree and Angsana Maldivian resorts were also on board,? explains David Champion, director of the Banyan Tree Vabbinfaru?s marine laboratory.
?All the work was carried out manually, from the transport of the materials to the bricklaying, to the cleaning of the island, the rebuilding of wells and new electrical plant. The Banyan Tree team comprised carpenters, plumbers and other construction workers who toiled, together with the UN aid workers in temperatures of 30 degrees, ten hours a day, seven days a week.?
David Campion, director of the
marine laboratory of the
Banyan Tree Resort Vabbinfaru.
Following the initial shock the 485 islanders worked side-by-side with the aid workers and, at the end of April the members of the task force had completed the work on Naalaafushi, the first island hit by the tsunami to be completely rebuilt in the Maldives. It was also the first time a private resort company worked with a UN agencyin the Maldives. ?An example of what the public and private sectors can achieve by working together and yet another example of the Banyan Tree Resorts? commitment to the environment and to the communities who live in the countries where we have properties.?